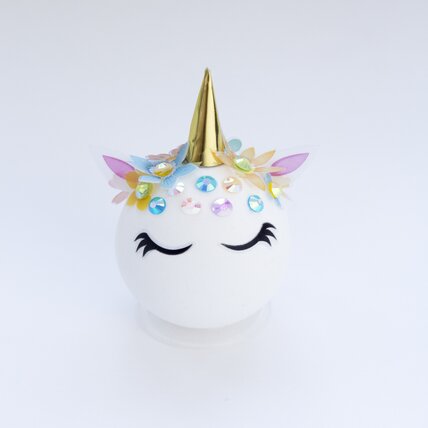 By Mitalee Deshpande for Finding Unicorns
Chocolate bunnies, colourful eggs, and baskets full of goodies — what's not to love about Easter.
An important religious holiday that brings family and friends together, Easter is also the only time of the year when chocolate eggs can be consumed for breakfast!
And while Easter Bunny is an all-time fave for kids, we're all about celebrating Easter with Unicorns this year!   
Fun Unicorn Easter Ideas
The Easter Bunny brings joy and wonder to Easter every year, but what's better than one magical creature? You guessed it, TWO magical creatures!
Unicorns are great for adding charm and fascination to any child's day but pair them with the Easter Bunny, and Easter is gonna be extra special this year.
So, let's look at some of the Unicorn Easter activities that will help to make this Easter even more sp-egg-tacular.
Unicorn Easter Craft
Image: Ekaterina Chirkova 
Each festive holiday has its rituals, and Easter is no different. Baking, decorating, painting eggs, and eating chocolate all come with the territory.
So, whether you're looking for crafts or recipes, we've got a whole list of fun pastel coloured Easter Unicorn activities for you.
How to Make a Unicorn Easter Basket
Image: i Heart Crafty Things
Wouldn't it be great if you could add touches of Unicorn to create an EGG-stra special basket for your Easter egg hunt? Fear not, for we've got some cute ideas to transform any ordinary basket into a magical Unicorn basket for Easter! 
Head over to i Heart Crafty Things to learn how to make a simple, stylish DIY Unicorn Easter basket (above).
Better Homes & Gardens also have a crafting idea to transform a simple basket into a sophisticated Easter basket by adding a few embellishments and pom-poms. 
If you're looking for a sturdier option and would like to experiment with yarns, check out this Crochet Pattern by Briana K Designs. Not only is it a cute and functional Unicorn Easter basket, but it can also be used as a whimsical prop and makes the perfect accessory for a Unicorn Halloween costume.
Is your busy schedule keeping you from diving into these cute DIYs?
Well, we've also found some Unicorn Easter baskets that you can buy. This Unicorn Bucket Bag is everything you've ever wanted for your Easter basket. It's sturdy, has superb detailing, and comes with a closure to keep your beautiful eggs and goodies safe from prying eyes.
And how cute are these handmade wooden Unicorn Easter Chocolate Egg boxes? Once you've devoured all your Easter eggs, you can use them as a money box for the rest of the year.
A more sophisticated option is this charming handmade Unicorn Wicker Basket. It has a pretty coloured lining and is perfect for a picnic or an Easter adventure.
Unicorn Easter Basket Stuffers
Image: Finding Unicorns Store
While Easter and chocolate go hand-in-hand, why not explore some other options for your Easter basket that don't include chocolate and the inevitable sugar crash?
We've got a bunch of Unicorn Easter basket stuffer ideas that make an excellent fit for your Easter basket and scavenger hunt.
This tub of pure Unicorn Snot Glitter Gel is perfect for adding a magical, sparkly shine to your special Easter outfit.
And why not include some gorgeous Unicorn accessories such as Ruby's Magic Wish Unicorn Charm Bracelet or this adorable Caticorn Necklace (above) to your festive finery?
And how cute are these Sleeping Unicorn Bows? They have that delicious pastel colour and would look fab with this Ombré Glittered Unicorn Necklace.
These Unicorn Fantasy Pens are an ideal gift for all the creative kids out there. And for all the little crafters, we've got this special Unicorn Tape Dispenser which comes with two rolls of rainbow tape.
And if you love Unicorns, you definitely love all-things tokidoki and their brilliant Unicornos range. Have you seen their Pio Pio Easter Unicorno?(below). She's divine! This beautiful festive figurine will make a gorgeous find on the scavenger hunt.
The traditional addition to the Easter basket is the Easter egg. But what if we told you that a cute little Unicorn friend could hatch from your egg? Check out this awesome crocheted Unicorn in Hatching Egg from Crochet and Play by Meg.
And of course, for all you adventurous souls out there, we've got a Crochet Pattern for a Unicorn Hatching Egg too! This easy-to-follow digital pattern will definitely leave you with a sense of achievement once you're done.
And what kid doesn't like slime! How gorgeous is this Pretty Pastel Unicorn Slime! (below). It would make a fab addition to any Unicorn Easter basket, alongside these divine Unicorn Bath Bombs.
Image: Kids Activities Shop
How to Make a Unicorn Easter Bonnet
What's Easter without an Easter bonnet parade? While we love this age-old tradition and the hours of art and craft that go into creating the perfect bunny bonnet, we also love a Unicorn twist.
Crafting a Unicorn Easter bonnet is such a fabulous idea as it includes buckets of family bonding time and is super fun too.
Kids Colour Magic has this Video Tutorial for making your own Unicorn Easter bonnet. And Jocie from One Project Closer has a super-easy step-by-step tutorial for making a Colourful Unicorn Hat too.
This DIY Easter Bonnet Kit and this UniBunny Kit have all the crafting supplies and an instructional kit to help you stand out at your Easter Parade.
And If you're looking for a ready-made option, The Bonnie Treasures have these colourful Handmade Easter Unicorn Bonnets for sale.
How to Make Unicorn Easter Eggs
Image: Madmoisell
Easter is incomplete without beautifully painted eggs. And what better way to start your Easter festivities than by decorating your own Easter eggs — complete with a Unicorn twist!
There's no specific Unicorn Easter egg design or template, so you can let your imagination run wild with fun ideas.
DIY Blogger and Pinterest addict, Madmoisell shares a quick guide for crafting your own Unicorn Easter Eggs with some glue, glittery crafting supplies, and a permanent marker. She also has the unique idea of replacing the Easter egg basket with a donut! Check them out (above) — so cute!
Caitlin Lee from Public Lives, Secret Recipes adds her subtle touches to DIY Unicorn Easter Eggs and shows us how a bunch of pastel flowers cascading down the back of the egg adds a dash of elegance to Easter activities. 
Meanwhile, Nerdy Mamma has added some fancy paper flowers to her Unicorn egg decorating activity and explains how it's done in super-easy steps.
PAAS, America's most popular Easter brand, has a wonderful selection of goodies to help you create your own Unicorn decorated Easter egg.
Use their popular Unicorn Color Whip to make magical, glittery eggs, or embellish your eggs to look like the cutest little Unicorns with their Unicorn Egg Decorating Kit.
And if you're feeling bold, why not crochet your little Easter Unicorn egg with this free Easter Unicorn Egg Crochet Pattern by Ekaterina Chirkova. Mix them up with a couple of real eggs, and you've got yourself a fun little Easter basket.
Unicorn Easter Eggs
 Image: Cha Cha Chocolate
What child doesn't love an Easter egg scavenger hunt and the chocolate bounty that comes with it.
Easter is one of the biggest holidays for the sale of sweet treats. And if you're looking to fill up your Easter basket with delicious chocolate goodies, check out our round-up of awesome Unicorn Easter eggs.
First stop is the Easter Egg Warehouse in Sydney, which has a number of Unicorn Easter eggs and Unicorn Easter chocolates to choose from. They've got milk chocolate Unicorns, Stella the white chocolate Unicorn, and a gift box of chocolate Unicorns as well.
New Zealand's Waikato Valley Chocolates also have a great range of Unicorn Easter chocolates and eggs, including this pink strawberry flavoured Unicorn chocolate, this Unicorn Easter egg with fancy Unicorn packaging, and yummy chocolate Easter eggs with adorable Unicorn plushies.
Thornton's chocolate Unicorn Easter egg (bottom) has been a definite favourite over the past few years, as has the birthday cake-flavoured Easter Unicorn by American confectioners Palmer.
And then there's this milk chocolate Unicorn egg filled with Unicorn sweets inside.
The Best Unicorn Easter Gifts
The list of Easter gifts is endless, but some Unicorn Easter discoveries just won't fit into your Easter basket. That doesn't mean you can't share them with your little ones, though. 
Here are some more items we think make some of the best Unicorn gifts for Easter.
Books make fantastic gifts for people, big and small.
Unicorn books are even better.
And we've even found Unicorn Easter books!
The Easter Unicorn is a magical pop-up book that maps the journey of a Unicorn who comes to the rescue when the Easter Bunny goes on holiday.
Then there's Oscar the Hungry Unicorn Eats Easter, (above) a funny story about a grouchy Unicorn who brings trouble to the Easter egg hunt but is determined to help make everything right.
And who doesn't love a gift hamper!
You can make up your own version of an Easter basket chock full of delish chocolate Unicorns and Unicorn surprise gifts, or you can buy them already made up.
Check out this Easter Unicorn Gift Hamper by Melbourne biz Isabella Rose Gifts, which is filled with goodies and fun-filled activities.
Image: Thorntons
That's All Folks!
So whether you're looking for DIY Unicorn projects or ready-made Unicorn Easter gifts, we hope you've found your inspiration by looking through all these fun Easter Unicorn Activities.
Let us know which ones you tried out in the comments below.
---