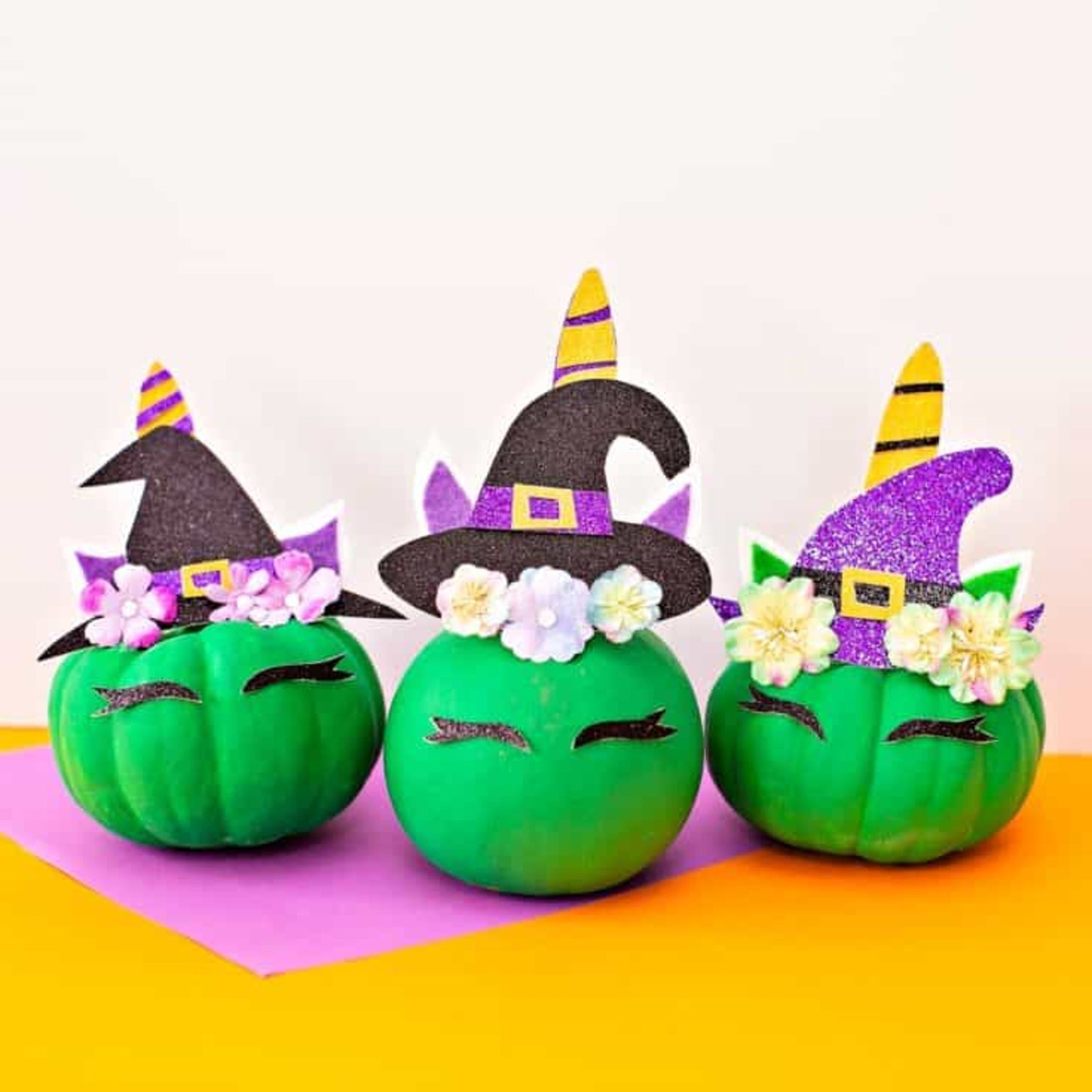 Ghouls no longer rule on Halloween.
There's been an increase in magical and mystical creatures pounding the pavement on October 31 and Unicorns are leading the charge.
In this round-up of all-things Unicorn and Halloween, I'll help you with some Halloween Unicorn inspo for kids who prefer the glitz to the ghoul.
Let's get started!
Unicorn Halloween Decorations
Decking out the house for Halloween has become a more elaborate exercise in recent years, so let's begin with a trusty classic – the Halloween pumpkin.
If like me, you love you some glitter, you'll enjoy these pretty, glitzy versions of the oldest of all Halloween decorations, the jack-o-lantern.
I've pulled together some of my fave Unicorn Halloween Pumpkin tutorials to help you on your way - just click on the links in the titles to get started.
The first tutorial is for these gorgeous mini Unicorn pumpkins by Hello Wonderful. Agnes has created a crafting empire, and she loves Unicorns so much she's even launched a second biz called Send a Unicorn.
Agnes has also designed these fabulous little Unicorn pumpkin witches below. Click on the link to follow her step-by-step tutorial.
DIY PASTEL HALLOWEEN UNICORN PUMPKINS
In the tutorial above, Val from Confettidea will walk you through the process of making these stunning pastel Unicorn pumpkins from scratch. Val is a Graphic Designer, and her site is full of DIY baking, cooking and decoration ideas.
Lynn from Craft Box Girls is another clever creative who shares her DIY projects on television shows across the US. A fellow Unicorn lover, Lynn has some fabulous Unicorn craft activities on her website. Watch her video in the link above to see how she makes this Unicorn stunner.
UNICORN PUMPKIN DECORATING KIT
If you're based in America and you'd like a bit of help with your pumpkin accessorising, Walmart has a Unicorn Pumpkin Decorating Kit that you can order online. Just hit the link above.
HALLOWEEN UNICORN CARVING PATTERNS
Or if you're keen to give some actual Unicorn pumpkin carving a go, how's this for a bright idea!
I've discovered an online store called Stoneykins who sell Halloween pumpkin carving patterns that you simply buy from their site, download and print out. And they have heaps of cute Unicorn designs to choose from, including the one above.
Halloween Unicorn Cookies
It wouldn't be Halloween without the treats, right?
But how about switching up the sugar this year by replacing the hard lollies and chocolate in your house with baked Unicorn treats instead?
There are some fantastic Unicorn Halloween cookies and cakes flying around the interwebs at the moment, and I've tracked down how to make some of them yourself.
Check out the recipes and tutorials for these amazing Halloween Unicorn cookies via the links below.
FULL BODY HALLOWEEN UNICORN COOKIES 
These two batches of Halloween goodness belong to Georgeanne from LilaLoa. This talented cookie artist just loves Halloween baking and has created the two tutorials above to help you create your own slightly creepy Halloween Unicorn cookies from scratch.
HALLOWEEN PUMPKIN UNICORN COOKIES
And while we're on the bake, check out the above video by Riley from Yes, Please! Delicious Delights in Queensland, Australia. Riley is a chef and the father of two young boys. In his spare time, he likes to make macarons and decorated cookies, and you can follow along via his YouTube Channel where he'll show you how to make these adorable Unicorn pumpkin cookies.
Halloween Unicorn Cakes
The Unicorn cake has become a firm favourite for birthday celebrations around the world. But this time of year has seen a more sinister take on the ubiquitous Unicorn cake. If you fancy yourself as a bit of a baker, check out these incredible Unicorn cake creations for some Unicorn Halloween inspo.
These first two ghoulish gems are by Bree from A Sweet Centerpiece in Texas, USA. Bree specialises in show-stoppers - beautifully-decorated celebration centrepieces - and these two are no exception. Incredible!
This next cake is by the world-famous Caked Up Cafe in New York. The bakery is a celeb fave, and its award-winning chefs have created this gorgeous witchy Unicorn cake with intricate detailing that includes miniature pumpkins throughout the foliage in the mane, and a Unicorn horn turned witch's hat.
Halloween Unicorn Face Paint
On October 31, face paint usually helps to ramp up the fright factor, but with Unicorns, we're looking for more glittery than spooky. But if your little one is keen to add some darkness to their sparkly Unicorn costume, consider these clever Halloween Unicorn face painting ideas.
Now, this cute little green guy is definitely rockin' the Halloween vibe! This incredible zombie Unicorn face paint design is courtesy of Livi Lollipop who is based in the UK. If you're in Leicester or Brighton, look out for Livi's face painting workshops where you can learn the art from the expert!
HALLOWEEN UNICORN FACE PAINT DESIGNS 
Elizabeth from Sparkle Face Face Painting is another wiz with the paintbrush, and she's also based in the UK. Elizabeth has been working on her Halloween Unicorn face painting designs and is the go-to for events in Surrey and Hampshire in the UK.
But if you're keen to stick with a more magical Unicorn feel, here's a tutorial (link above) by Maria from Let's Paint. Maria's based in Sydney's Northern Beaches and has a YouTube channel dedicated to showing you how it's done.
Unicorn Costumes for Halloween
If your little one is insistent on looking the part on the day, there are some fab Unicorn dress-ups around.
You can choose to make – or buy – your costume. Add a Unicorn headband and some ghoulish - or sparkly - Unicorn face paint, and you're ready to rock.
Here are some fabulous DIY Unicorn costume options you could try:
Lynn from Craft Box Girls is killing it with the Unicorn theme this Halloween. She's made this gorgeous Unicorn outfit for her adorable daughter Lily, and she walks you through the process in her easy-to-follow tutorial above.
I also love this DIY Unicorn costume by Craftaholics Anonymous. Linda is the lady behind the creation, which she made for her Unicorn-loving daughter. She'll walk you step-by-step through the process, resulting in this vibrant get-up which will be super comfy for trick or treating and features a fluffy tail and flower crown.
---